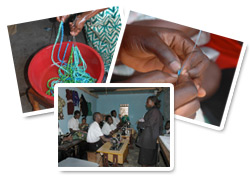 Handmade by SANYKUKA! Women At Risk, these paper beads are made by rolling strips of recycled paper with glue, letting them dry, and varnishing up to 6 times. Sanyuka! Women At Risk is based in Uganda, and works with young women to provide the opportunity to pursue their dreams. The varnish is non-toxic and is safe for everyday use. It is said that each bead is as unique as the individual that made it. Since they're handcrafted, sizing and shape can vary slightly—and you might even be able to read some of the words on the paper! Because of their handmade nature, no two shipments are ever the same. When they're gone, they're gone!
You are viewing all 1 items.
| | | |
| --- | --- | --- |
| Piece | $0.45 | |
Last Chance—All sales final.
You are viewing all 1 items.