Designs by Dizzy Chick Lori Z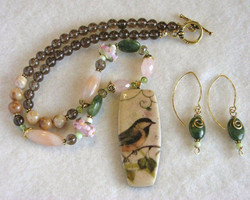 Inspired by another of Lynda's pendants "Pretty on Her Perch". Can't tell I love her work can you? This one reminded me of spring, so I included...
Components:
Peridot; Rose Quartz; 3mm faceted Peridot; Smoky Quartz; Green Jade; Lemon Chrysoprase; Lampwork beads; Peach Jade; Monaco Agate; Smoky Quartz; Tierra Cast GP bead caps and toggle. 99% Lima beads. :) The earrings I made from 20 ga. non-tarnish brass wire.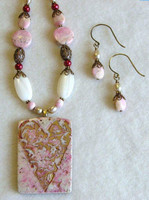 This necklace was inspired by the fantastic potpourri & polymer clay pendant by our own Lynda DivaChick.
http://www.etsy.com/shop/SCDiva
I think...
Components:
Potpourri infused Polymer Clay Pendant, LB Champagne fwp; LB Rhodochrosite; LB Freshwater Shell; LB Vintaj bead caps and Filigree beads; Cranberry red fwp; LB gold plate daisy spacers, chain & clasp.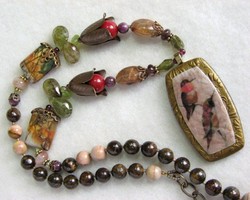 Inspired by the beautiful custom order polymer clay pendant by Lynda "DivaChick"
Components:
Polymer clay pendant from Lynda; (unless *'d) Gemstones from Lima : Garnet, Green Garnet, Scapolite, *Rutilated Quartz, Ruby, *Red Mystery Stone, Peridot teardrops, Green Garnet faceted teardrops, Brazil Wild Horse Jasper, Rutilated Quartz (multi), tiny faceted Peridot, *Bronzite, Hidden Valley Jasper, Delica beads, Vintaj Brass bead caps, chain & hook clasp, gold plate daisy spacers.