Designs by Nancy Mc
Showing page 4 of 4 (71 total Designs)
Jump to: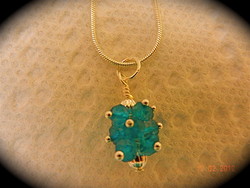 This simple little drop was inspired by the "too blue" Quartz. Obviously dyed,but who cares? I got my friend Doris to model for one photo only....
Components:
Dyed "Apatite Blue" Quartz, sterling silver head pins, melon ball beads, and chain.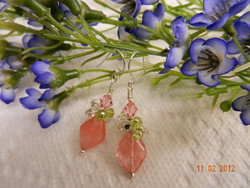 My inspiration came from a flower bouquet that a coworker received. It had the most fragrant Lilies,and Tulips,which were pink,with green tips.The...
Components:
Cherry Glass Quartz, clear and pink Swarovski bicones, gen. Peridot rondells, sterling silver.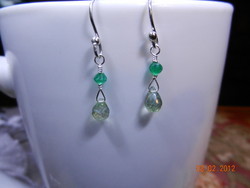 Hi everyone! Not a very impressive photo,I know. I just had to share these little Mystic Green Quartz brios.They're so calming. Popped some Green...
Components:
Mystic Green Quartz, Green Onyx, and Sterling Silver.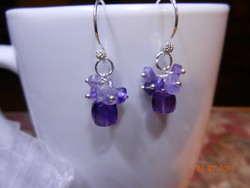 My inspiration came from the stones. I'm a big fan of cluster earrings,and had 2 nice quality Amethyst cubes. Just couldn't decide what to accent...
Components:
Gen. Amethyst, sterling silver.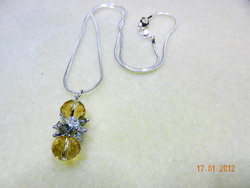 Custom designed for my best friend.
She has a stunning David Yurman bracelet, and ring with Citrine. I went on a mission to compliment it,without...
Components:
Yellow upcycled crystals, Swarovski bicones, sterling ball headpins, sterling jump rings, and sterling snake chain.
What do you do,when you receive an envelope of super juicy Orange Carnelian? Put em on ice! ;)
Components:
"Juicy" Orange Carnelian, and Large Opalite briolettes.wrapped with silver plated wires, and hung on "Fancy" dotted SS ear wires. Opalite bead is about 10mm wide.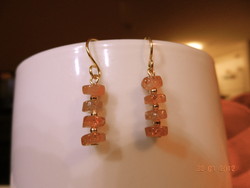 Not much to explain here. I received some Sunstone Heishi beads,and just fell in love! I think gold works better,to show off the schiller in the...
Components:
Oregon Sunstone, 2mm GF beads, and 14K GF wires.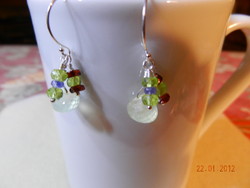 As usual,I started with a simple brio,and couldn't leave it alone. I wanted something else to 'dance' around it.Grabbed my box of fancy little...
Components:
Gen stones.Prehnite "onion" briolettes, Garnet, Peridot, and Tanzanite roundels, SS findings, and hoop wires.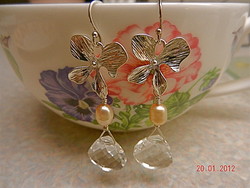 Here in New England,we're sometimes treated to a show of flowers covered with ice or snow,in early Spring.
It never happens in Hawaii...but what...
Components:
Silver plated orchid drops, Rice Pearls, and 12 mm Crystal Briolettes. Wrapped with silver plated copper.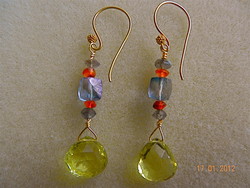 These were made by accident. Wanted to do the Lemon Quartz by itself,but used a very long piece of gold plated wire. I decided to just get...
Components:
Lemon Quartz (10mm at widest point), Labradorite, Carnelian, and Violet Mystic Quartz Cube. Wires are Gold filled.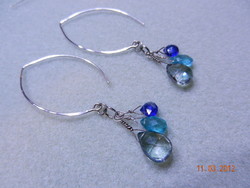 My inspiration is the dreamy look of the water,when flying over the Bahamas. Many shades of blues and greens.everything is so crystal clear!
Components:
Genuine stones. Mystic Green Quartz, Apatite, and gemmy quality small Kyanite. All brios wrapped in half hard sterling, attached to sterling silver earwires. I used a couple of small jump rings to get more dangle effect.
Showing page 4 of 4 (71 total Designs)
Jump to: