Designs by Luna Chick aka Coral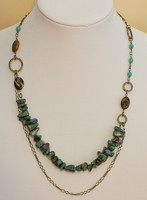 This assymetrical necklace features zebra jasper nuggets, snakeskin jasper ovals, and opaque czech glass beads. The necklace measures 25" and has a...
Components:
zebra jasper, snakeskin jasper, czech glass, brass hammertone links (LB), curb and figure 8 chain (LB).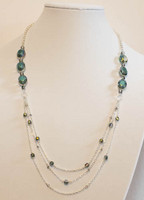 This necklace used up the last of the Chinese crystal I purchased in March.
Components:
Chinese crystal (1/2 coat green), 6mm green 1/2 coat crystal, 3, silver crystal, chain