Designs by Eeka Mouse
Showing page 4 of 4 (69 total Designs)
Jump to: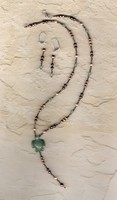 Here's my entry into the turtle herd. The little guy inspired the necklace - had to do something special with him!

I did something similar w/a...
Components:
Carved serpentine sea turtle, serpentine round beads, fwps, sterling clasp, Cu-lined grey 11/0 seedbeads, accuflex, crimps.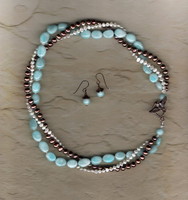 I love the color of the Peruvian Amazonite, and thought it would go nicely with the shibuichi chasp ( both from LB). As I was laying them out on...
Components:
Peruvian Amazonite, GG shibuichi bird clasp, FWP, 11/0 and 15/0 seedbeads, sterling crimps, accuflex.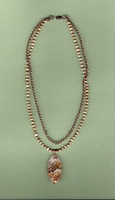 Plume Agate 2-strand Necklace. I love the depth of the pattern in Plume Agate!
Components:
Plume Agate Horse Eye (LB) w/craft wire headpin, FW Pearls, 15/0 seedbeads, Chain.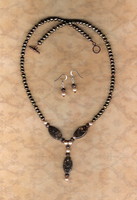 My latest purchases from LB arrived today! I hadn't planned on using the vanilla pearls with the fossil palm jasper, but they looked so nice...
Components:
Palm Jasper Horse-eyes, Vanilla FW Pearls, Iris Bronze FW Pearls, Copper 'Crumb' Spacers, Copper/Pewter Toggle, Copper Seed Beads.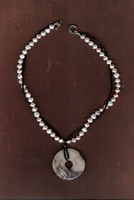 I bought the donut to see what birch jasper looked like 'in the flesh'. It's lovely, and I was surprised by the peach tones in it. It was fun to...
Components:
Birch Jasper Donut (from LB), peach flattish potato pearls, seed beads and a fire-polished rondelle. Apologies the pic is a bit dark - background is dark red barnwood. I'd rescan it, but it's been sold.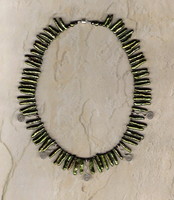 I have had these green 'finger pearls' for a couple of years, but haven't come up with a design to use them in.. until today.
Components:
Mossy green top-drilled thin stick pearls, sterling silver swirl dangles, bronze fire-polished rounds, round fw pearls, seedbeads and a magnetic clasp. Length is 17".
I love working with fossils. In this necklace, I wanted to give the effect of bubbles rising from the pendant.
Components:
Turritella Agate, Freshwater Pearls, Seed Beads and Sterling Silver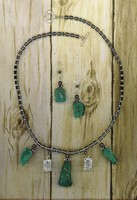 Multi-dangle necklace showing off rough nuggets and Hill Tribe charms. This one stays in my personal collection.
Components:
Russian Amazonite rough nuggets, fish-stamped Hill Tribe silver tablets, hematite barrels, sterling beads and clasp.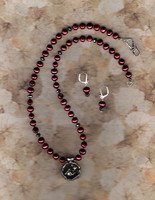 I designed this necklace for my friend Grace, who has a passion for pomegranates. It was inspired by the pendant, then went hunting for the right...
Components:
Green Girl 'Pomegranate Fairy' pewter bead, cranberry colored fresh water pearls, faceted hematite rondelles, sterling silver clasp.
Showing page 4 of 4 (69 total Designs)
Jump to: