Designs by Wild Mustard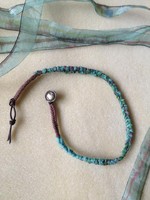 This was the first Ali-inspired fishtail bracelet - you can see the organza ribbon that I dyed myself. I added a Montana blue Superlon beading...
Components:
Dark brown natural leather (1.5 mm), dark brown hemp (1 mm), 7/16" aqua organza ribbon (dyed with dyes from Dharma), Montana blue Superlon beading cord, hypo cement, clear fingernail polish (on the ribbon to prevent fraying). Length: ~18 inches.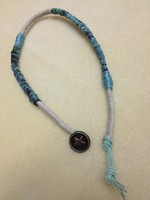 I loved the fishtail braids and bracelets that Ali created, and I wanted to try one. I didn't have time to order the silk ribbon, so I bought some...
Components:
1 mm seafoam green leather (double strand), 1 mm natural hemp, 7/16" aqua organza ribbon (dyed with dyes from Dharma), teal Amiet beading thread, 18 mm antique brass pewter star button