Designs by Old Beaded Lady Chris
Showing page 2 of 2 (32 total Designs)
Jump to: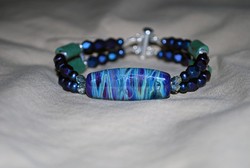 I love beads and especially the handmade focal glass lampwork ones.
A nice focal can work your creativity
and have something very beautiful. I...
Components:
The lampwork glass focal is the star attraction. I had in my bead stash these awesome Czech Iris Picasso 6mm beads that blend with the focal. I also had these green rectangle beads that is also found on the focal. Photos just don't show it as well. I wanted to express the color of what that focal had. I used silver spacer bars to hold it together with a silver tube clasp.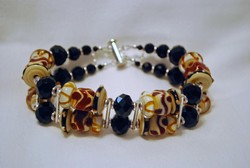 I had these very unique tribal inspired glass beads sitting in my bead
supplies. I thought to finally put them to use making a contemporary sort...
Components:
Two strands of beads held together with silver spacer tubes. Since black is shown on the saucer beads; I used large black faceted ones giving it some character. Tiny silver heishi spacers also used. The clasp is a double strand slider which is magnetic.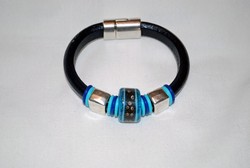 Licorice leather bracelets are the craze. I have seen them on the browsing the I do learning and finding new jewelry ideas. This particular...
Components:
Regaliz navy blue distressed leather with the focal slider bead from Desert Bug Design. These sliders are custom made to fit the Regaliz leather. I followed up with the silver Regaliz findings in silver. The clasp is magnetic. The rubber O rings are made for this type of bracelet to serve two functions. First and foremost, to hold everything in its place. Second, is to add color to your design. For my very first piece...not bad.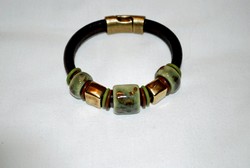 Keeping up with the latest fashion jewelry craze. Leather is definitely in. I fell in love with the thick Greek licorice leather. It holds up...
Components:
Regaliz brand leather in the dark brown distressed color. I found these beautiful porcelain sliders that were created by Clay River Designs made for the Regaliz leather. The metal findings are Regaliz findings in brass. The clasp is magnetic. The rubber O rings are very popular and very important as they keep everything in its place. Also adds to the design. The ring colors are olive and chocolate brown.
My third rosary again wanting to capture that old world charm and grace.
The richness of the Czech fire-polished
beads...purple and lilac with...
Components:
Antique gold filigree cross and centerpiece. The centerpiece was enhanced by me placing a tiny rhinestone in the center of it. I found these stunning Czech designer fire polished beads in a dazzling lilac purple to complete the look. Tiny 3mm gold metal beads along with antiqued ornate gold beads also used. 4mm purple lilac rondelles and gold spacers also used.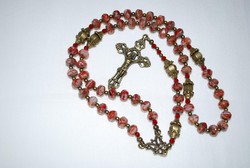 I was so pleased with my first rosary that I decided to make one with the feel of old world. It has the feeling of antiquity to it.
Components:
Antiqued bronze filigree cross and centerpiece. The bronzed metal beads and ornate bead caps are complement of Blue Moon Beads. These gorgeous Czech designer beads where purchased from Lima. They emote what I was trying to achieve. Perfect !!! Tiny 3mm bronze beads and 4mm deep red crystals complete the design.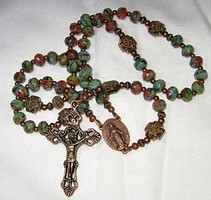 I'm Catholic by faith. I wanted to make a rosary capturing the vintage look still keeping reverence to my traditional beliefs.
Components:
I found this beautiful ornate crucifix set in copper. I purchased these so wonderful Czech Pisacco fire polished beads from Lima (thank you so much) as they complement 100% what I had in my thoughts. I found these beautiful open metal crosses to add to the rosary. It's truly beautiful reflecting my devotion to God.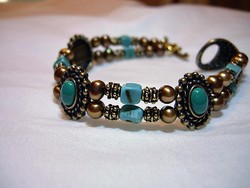 I was shopping in JoAnne's the other day and accidently discovered these green and bronze spacer beads for making a bracelet. I purchased them...
Components:
I made this bracelet using the green spacers as my focals. I had these beautiful square howlite beads that complimented the deep green of the spacers. Since the medal base was bronze I decided to incorporate these small potato pearls that made this bracelet pop. I have lots of findings which these antique gold finished the look. The toggle and clasp is Tierra Cast in a hammered bronze. WOW !!! What a terrific looking dainty antiqued looking bracelet. It's a keeper !!!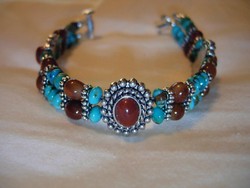 While I was shopping at Michael's I discovered these fantastic bracelet spacers. I recently moved to Arizona.
I thought to make myself some...
Components:
These beautiful spacer beads are two-holed for bracelets. I had a string of Arizona turquoise which had greenish blueish with brown inclusions. Perfect for what I was wanting to create. Added tiny three holed spacer bars to give the bracelet more silver keeping with the design of the spacer beads. WOW !! I just love wearing this and have gotten compliments.
I found these incredible clay beads on the Internet. I just had to create an Eastern themed exotic type of necklace.
Went the full route...added...
Components:
I found these beautiful clay beads on the Internet...JoAnne's to be more exact by accident. I went to my local bead store finding these lucious soft peachy beads that matched perfectly. I had white seed beads and black beads to finish my design. Gunmetal chains and findings give it that antique touch. I'm happy as to how it turned out.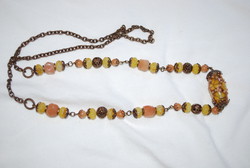 I found this gorgeous handmade lampwork focal bead. It is the center of my Vintaj worked necklace.
Components:
I took the colors from the focal bead and incorporated into my necklace. I found these wonderful 6mm Czech matte finish rondelle that go perfect. I added these beige rose quartz nuggets along with the Vintaj bead caps. Also included is the Vintaj 6mm filigree round beads and 4mm coral glass beads.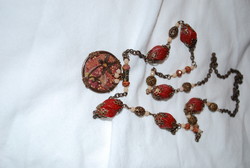 I love Vintaj !! It lets you be so creative and very individual. I am dabbling into resin. I made this fantastic pendant using Vintaj and collage...
Components:
I used my dark red cinnabar beads to showcase the pendant. Or is it the other way around ? Both worked fantastic for me. I then used Vintaj filigree beads and chain to capture the feeling of ancient Orient influence.
Showing page 2 of 2 (32 total Designs)
Jump to: