Designs by Jo B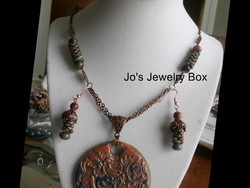 I got this pattern from a recent issue of a beading magazine. I enjoy working with Super Duos and I loved the idea of making my own pendant for the...
Components:
The pendant is made with Crystal Clay. I rolled it over a clay squisher to get the pattern. After it dried I colored it with Vintaj patinas in different colors to accent the colors of the Super Duos. I used copper chain, bead caps and bright copper earwires.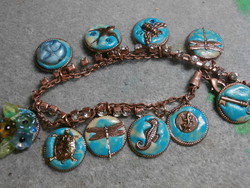 Charm bracelet inspired by the sand and the sea. I love the copper color of the bracelet and bezels that the charms are set into. The blue and sand...
Components:
Copper chain, cup chain and 3 needle woven chain make up the 'chain' part of the bracelet. 15mm copper bezels are set with a mix of blue and sand Crystal Clay the mottled mix mimics the movement of sea on sand and sky. I snipped of the loops on the charms and pressed them into the clay. I added chantons to some. The one charm with pressed glass flowers and leaves have crystals all around in in the centers of each flower.

With Step-by-Step Instructions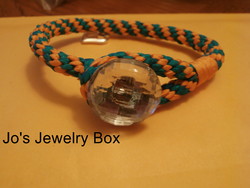 This is an 8 cord Kumihimo Braid using silk cord, sterling silver heart and big bling button closure.
Components:
I used 4 cords of Nectarine Silk String 2mm and 4 cords of Teal Silk String 2mm. By putting the cords in the right spaces on the Kumihimo Disk I created this spiral design. I finished up with a big bling button and added a sterling silver heart dangle I call it "Let's Get Married!" since my step-daughter is getting married and these are her colors!