Designs by whimsy girl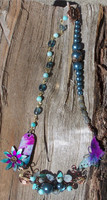 I wanted to do something kind of mixed-media. I'm not used to doing asymmetrical, but I was actually very pleased with the results. I used a...
Components:
wire: brass, Copper, colored copper, and gunmetal. Copper clasp (tierracast), vintaj brass butterfly, letter dies, ranger alcohol inks in plum and lagoon, ranger metallic inks in gold and silver, crystal glaze, vintaj arte metal 2 hole plate, vintaj 8 petal cut out, vintaj 6 petal cut out, vintaj natural brass suspended butterfly, top drilled aquamarine chips, 4 czech glass horizon leaf drops, 11 6mm amazonite rounds, 7 faceted labradorite rounds, 5 blue-green fluorite flat ovals, 8 faceted labradorite rondelles, 17 marine blue shell pearls- various sizes, 4 3mm copper rounds, 2 vintaj arte metal bead caps 6 hole pierced, 4 vintaj flower petal bead caps, 3 vintaj filigree bead wraps, 10 vintaj arte metal head-pins.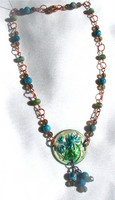 I made this with copper wire and my Spring Rain design kit. I love the way the colors turned out on the pendant.
Components:
Copper wire, multi color glass beads from the kit, vintaj pendant, Ranger inks, vintaj head pins, smoky gray glass beads from the kit, labradorite beads from the kit, Crazy Lace Agate beads.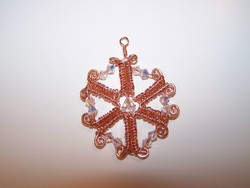 wire wrapped piece, using clear crystals
Components:
copper wire 4 mm bicones