Designs by Asia
Showing page 4 of 4 (71 total Designs)
Jump to: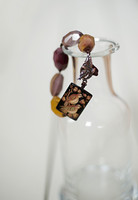 Based on my pick with the same title.
Components:
Mookaite nuggets, GGS shibuichi clasp, Czech leaf beads, leather cord all LB, Russian hand painted onyx bead from my stash.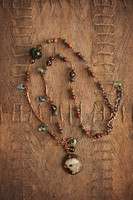 Based on my fresh pick.
Components:
HB Sparrow Pendant, Nunn Design twig conectors, Red Creek Jasper, Smoky Quartz, SSG boro gkass bead, Unicorne Beads teardrop beads, antique copper chain all from LB. Antique copper clasp and spacers.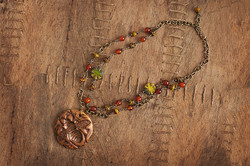 Just practicing with PC and double strand design.
Components:
Carnelian, Czech glass beads, antique brass chain all LB. Antique brass S-clasp and bead caps, homemade polymer clay bumblebee pendant.
This is my last big ball. I torched the ball to get the gunmetal color, then curled the segments to the inside. Made a cluster from chartreuse...
Components:
Czech glass rondelles, Czech glass flowers, Fire Agate, Vintaj chain and bead caps and gunmetal spacers.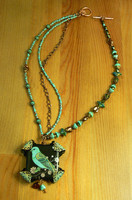 Used a liver of sulfur to change the color, then gilders paste in copper& patina, then I wrapped the flattened ball around the pendant. Sorry for...
Components:
An assortment of Czech glass beads, seed beads, keishi pearls, decoupage pendant, gilders paste, copper findings and the BIG BALL.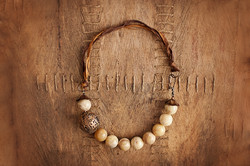 It was a crazy challenge.
Components:
Big brass ball, brass bead caps, yellow opal 20 mm, my own copper clasp, sari silk and the trusty liver of sulfur.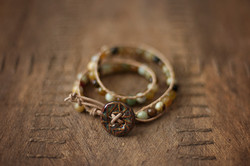 Soocho Jade is one of my favorite gemstones.
Components:
Antique Soocho Jade, leather cord LB + a stoneware button.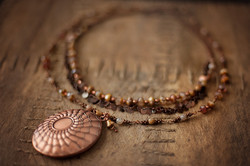 Based on the pick with the same title, I went out of my comfort zone ( as I am not a pink person), when I did the pick.
Components:
Czech rodelles and flowers, Autumn Agate, copper locket, copper chain all LB, peanut seed beads and home made copper clasp.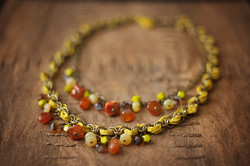 It all started with this sari silk ribbon.
Components:
Carnelian drops, Yellow Opal, Unicorne beads, Czech Faceted Nuggets in chartreuse, brass chain all LB. Chartreuse sari silk.Homemade brass clasp.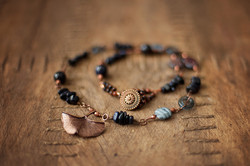 Design was based on mine pick with the same name.
Components:
Blue Goldstone, Blue and Gold Goldstone, Amonite Czech bead, button clasp all LB.Czech glass beads and rings, annealed copper wire.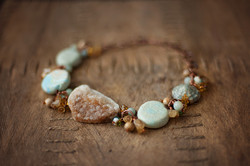 One of mine first picks on LB and mine first ever necklace.
Components:
Druzy, Amazonite, Citrine, seed beads all LB.Czech flower beads. PC shell and lentil beads are homemade, as is the copper clasp.
Showing page 4 of 4 (71 total Designs)
Jump to: