Designs by A Rozmin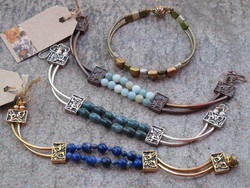 This is another design inspired by the Design Gallery, but with my own interpretation. You have to be careful with the beading wire. It needs a...
Components:
38mmx2mm plated noodle beads, Czech glass 2 hole beads, amazonite, agate and lapis beads, calla lily spacers(LB) on beading wire (LB).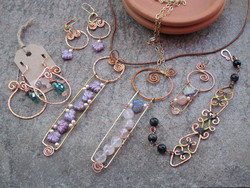 I started out with the frames, and the rest seemed to just fall into place. Bracelet was harder. I made the components as an experiment, then bent...
Components:
18, 28 & 22 gauge brass and copper wire, Czech glass leaves, glass crystal teardrop and Toho beads, and faceted agate beads. Leather cord and gold plated chain from LB. Wirework bracelet has bluestone beads and gunmetal and peridot 28 gauge wire.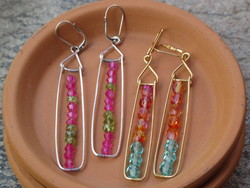 I started with an idea I saw here, then changed it a bit. Its always hard to get earring wire work to match each other. The frames are flattened a...
Components:
Pink crystal and green stone beads came from the Bead and Button show; my stash of 6 mm Czech beads, LB 18 and 28 gauge wire and ear wires.