Designs by Lula Belle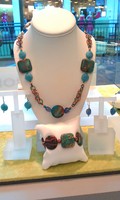 I had a few pieces of Turquoise impression jasper that were too coppery brown to use in another piece I designed. So I put them with copper chain...
Components:
Turquoise impression Jasper, Amazonite, blue green fluorite, teal fresh water pearls, cooper chain and toggles.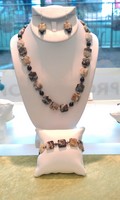 I loved the picture of the Brioche Agate from Lima beads. I love it even more when I receive my 1st strand.
Components:
Brioche Agate, Black Onyx, Fossil Coral, sterling silver clasp and extender chain necklace 18 to 20" with matching earring and bracelet with sterling silver toggle.