Designs by Yorkie chick aka CC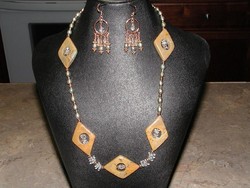 This piece was a challenge for me...I don't normally work with copper and I'm not especially fond of pearls...however, a friend challenged me and...
Components:
Earrings copper beads fw green pearls, crystals, and copper earwires. Necklace rainbow jasper diamonds, fw green pearls, copper beads, crystal "gems", and copper toggle.