Designs by L Kay
So the saw and I got together for another party. Using it stresses me out. I stamped a heart on copper and it needed something else. So I...
Components:
This is a one inch copper cuff bracelet that I sawed out of a copper sheet. Then I etched, oxidized and sealed it.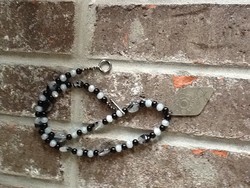 The pendant was cut out of nickel silver using a saw, stamped and then etched. I usually do not name my work but this reminded me of steel with...
Components:
Pendant is nickel silver strung with tourmilated quartz ovals, black jade rounds and gray crystals.