Designs by beadinggma
Wanted necklace to resemble a basket handle.
Components:
Pink yellow, green leather cord braided. Lots of Czech bellflowers in various colors. Green cupped petals and leaves. Olive ghreen Czech seed beads and 6mm beads. 2 gold bead caps and gold lobster clasp.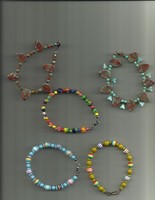 Lots of bracelets with different beads.
Components:
Too many beads to list.