Designs by Gaea C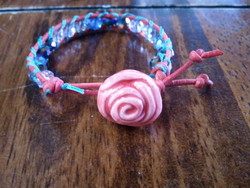 Ladder stitched bracelet with rose button and glass beads from Lima Beads, made by Magnolia, age 6.
Components:
ceramic button, glass beads, leather, cord.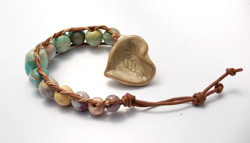 I was so excited to try the ladder stitch project. Even in my sleep deprived state, Ali's video made it look like fun!
Components:
Open heart button, gaea ceramic beads, 1.5mm leather.