Mystery Bead Part II
Posted by Matt on January 22 at 02:42 pm
We have a winner! Mademoiselle M had the first correct guess with Copper Green Opal Diamond 12mm. She wins a $25 gift certificate.
We're going to give this another try. Since the last one was solved in the less than an hour, we've tried to make this one much harder. The "one guess per day" rule still applies, but for those of you who guessed in Mystery Bead Part I, you may also guess today for this new contest . If you're not familiar with the last Mystery Bead post, you may be wondering what that blob is directly above. Well, it's a zoomed in photo of a gemstone bead…
The success of our How Many Beads in the Jar? post got us thinking about other ways to have fun contests and give our customers free stuff. In one of our brainstorming sessions, I came up with the idea that we should take a product photo from the website, find some way to make it unrecognizable, and have our customers take a guess at what it is.
We've taken a photo directly from the website and we'd like you to guess the EXACT product name. We're not looking for the stone name like "African Opal," we're looking for the product name is appears on the our web site: "African Opal Flat Oval 14x10mm." Here are a few other stipulations before you start guessing:
Guesses can only be submitted in the comments of this post. Customers who guessed on the first Mystery Bead, you get one more guess today (Thursday 1/22/09).
You can guess up to once per day.
If someone guesses the exact product name, we will announce it immediately. That person will automatically be the winner and the contest will end.
The Clues
We'll show a new image at the top of this blog post each day around 12pm (noon) EST. Each day, the image will show more of the bead and be more in focus, making it easier to identify the bead. To give you an idea of the day to day progression of the photo, I've created an example (right). Since the last one was so easy to figure out, we've added another effect to make it even more difficult.
As you can see, not only have we zoomed in, we're also blurring the image. As the photo progresses, we're zooming out and reducing the blur on the image. By the way, "Imperial Jasper Puff Square 16mm," is not the answer.
The Prize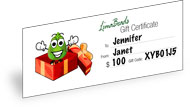 The winner will receive a Lima Beads $25 gift certificate. The gift certificate can be used for absolutely anything in the Lima Beads shop and must be redeemed within 1 year. The winner will also be announced on the blog.
This one is a lot easier than the "How Many Beads in The Jar" contest, so it probably won't last long!