How Many Feet of Chain?
Posted by Matt on July 08 at 10:24 am
Update: We have our winners!
If you guess how many feet of chain are on this table, we'll give you a $100 Lima Beads Gift Certificate!
The rules are simple:
You have until 2pm EDT on Monday, July 12th 2010 to make your guess(es).
Guesses can only be submitted in the comments of this post.
The winner will be the closest guess (without going over).
If there's a tie, the earliest entry will be the winner.
You can guess up to once per day. At the end of the contest, only your most recent guess will be considered.
If someone guesses the exact amount, we will announce it immediately. That person will automatically be the winner and the contest will end.
The Prize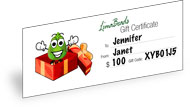 The winner will receive a Lima Beads $100 gift certificate. The gift certificate can be used for absolutely anything in the Lima Beads shop and must be redeemed within 1 year. The winner will also be announced on the blog, so the whole beading world will know how incredibly awesome you are!
The first person to guess within 100 feet of the actual amount will receive a cool geode, so hurry and start guessing, but remember — you only get 1 guess per day!
Helpful Hints
You'll find a couple of helpful facts about the chain below. Depending on how things are going, we may or may not be giving you another hint tomorrow afternoon.
7/8 – There are a total of 34 spools on the table
7/8 – Depending on link sizes, one of the larger spools will contain up to 400 feet
7/9 – Someone has already won the cool geode!
7/9 – The length of chain is shorter than a mile
7/12 – The correct guess is a prime number
Looking for today's new beads?
Check the out on out New Additions page