Designs by
Cecejewelry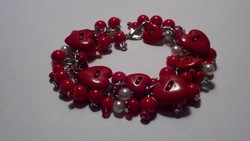 What inspired me to make this charming bracelet was to show how much I love myself with a piece of jewelry. I love the red button hearts and...
Components:
Made with 1 mm and 1.5mm size red acrylic heart shaped buttons incorporated into red and white glass pearls with daisy metal spacer beads and glass seed beads on a silver metal chain with toggle clasp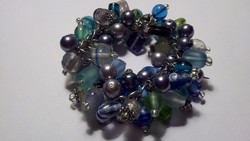 I love the caribbean so I was inspired to make this statement bracelet with the colors of the caribbean sea.
Components:
I incorporated 8mm silver pearl beads in a mix of greens, blues, clear and white glass beads with daisy spacers and czech glass seed beads on a silvertone chain with adjustable lobster claw clasp.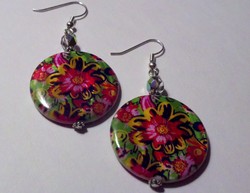 These earrings were designed with the caribbean and tropics in mind. The beautiful burst of black,red, fuschia and green gives you a feeling of...
Components:
The earrings are incorporated with lentil shell beads, czech AB crystals, Bali daisy spacer beads, and silver ear wires.
Chatter



"Shades of Gray":

on

"Beautiful piece and I think your wirework and the beads you've chosen complement the lovely donut…" read »




"Dragonfly's Meadow":

on

"Beautiful spring/summer bracelet! I LOVE your design! …" read »




"Squares on the Round":

on

"Thank you all so much for the feedback! I think I will try selling these…" read »






"Hello, Kitty!":

on

"It's always fun when your aunt uses something you gave her. She will remember that…" read »










"Hello, Kitty!":

on

"There are a few of these enamel charms out there I just love - anything Peanuts,…" read »










"Aqua splash!":

on

"This piece is absolutely gorgeous! The color of the stones is gorgeous and I'm sure…" read »




"Happiness":

on

"I love this piece. It all works together--the colors, the chain, the pendant!…" read »






"Stress/Anxiety Relief & Protection":

on

"Gorgeous, I love the fossil stone. …" read »












"Fantasy Dragonfly":

on

"Monica, Thanks for the link--Ru's work is magnificent! The functionality of his pieces is amazing. …" read »


















"Hello, Kitty!":

on

"That's so sweet, I'm sure she'll be thrilled! what a great reminder of your fun day…" read »






"Just for Me!":

on

"Thank you, Chickies, for your kind words! They mean more than you know.....…" read »




"Parisan Earrings":

on

"Great melding of components....big fan of aquamarine here, and the pearls, sliver, and pewter go perfectly…" read »