Designs by
jade
Showing page 2 of 2 (26 total Designs)
Jump to:
Two similar but different bracelets :)
I made the violet one for my sister, and the blue one for a friend!
Components:
Recycled glass beads, crystals, chain, metal pegasus & leaf all from Lima :)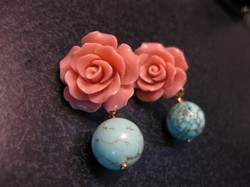 A bunch of flower earrings I made sometime last month :)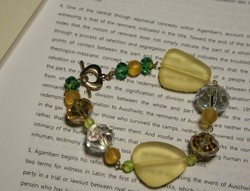 A series of bracelets- I've sold these all, to close friends (who now refuse to just take them!)! I'm also planning to make one with the blue free...
Components:
recycled glass beads- free form Crystals Toggle clasps And some beading wire!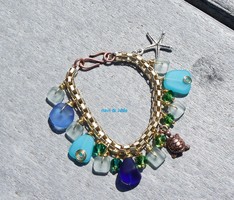 I am waiting for the summer (which will be a long break from grad school!), and here is the result of such longing. :) This is the third bracelet I...
Components:
Lima recycled beads in various blues, green crystals, metal turtle & starfish. The chain is again, from the destash lot-- I've now used it all up (and am very happy!).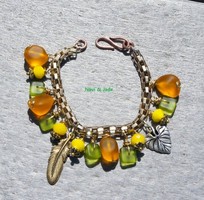 Lima's recycled glass beads, yellow crystals (also from lima) and metal pendants. The chain was from my destash lot (it was a chunky necklace I...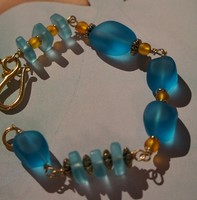 Bracelet composed of lima's recycled glass beads and metal spacers. I got the spacers and the clasp at my local beads shop :) loving the recycled...
Showing page 2 of 2 (26 total Designs)
Jump to:
Chatter
"Sunset":

on

"Very pretty,and so much fun for summer! Love the candy jade. Happy playful piece. I love it!…" read »
















"Self-Actualization":

on

"I'm just curious; I've seen lots of these Tibetan style meditation beads - necklaces, bracelets; Most…" read »












"Winter Mix Shell Pearls":

on

"Aren't bead caps wonderful--Nice use of left-overs! …" read »












"Shades of Gray":

on

"Beautiful piece and I think your wirework and the beads you've chosen complement the lovely donut…" read »




"Dragonfly's Meadow":

on

"Beautiful spring/summer bracelet! I LOVE your design! …" read »




"Squares on the Round":

on

"Thank you all so much for the feedback! I think I will try selling these…" read »






"Hello, Kitty!":

on

"It's always fun when your aunt uses something you gave her. She will remember that…" read »










"Hello, Kitty!":

on

"There are a few of these enamel charms out there I just love - anything Peanuts,…" read »










"Aqua splash!":

on

"This piece is absolutely gorgeous! The color of the stones is gorgeous and I'm sure…" read »




"Happiness":

on

"I love this piece. It all works together--the colors, the chain, the pendant!…" read »






"Stress/Anxiety Relief & Protection":

on

"Gorgeous, I love the fossil stone. …" read »












"Fantasy Dragonfly":

on

"Monica, Thanks for the link--Ru's work is magnificent! The functionality of his pieces is amazing. …" read »