Get tips and techniques to become a better beader at Lima Beads.
Our leather cuffs could certainly pass for a bracelet as is: the leather is soft, supple and elegant looking. But I know we're a creative group and want to express our creativity in everything we do– we want to experiment, embellish and engrave our mark on the plain and mundane. I came up with a few ideas here to take the leather cuff to the next level. This will give you an idea of the sort of techniques you can enact on these cuffs to truly make them your own!
The Metallic Cuff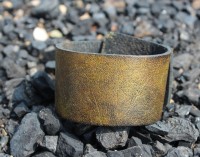 This look is really easy to achieve. All you need is a metallic StazOn ink pad and a couple of darker, earthy colored StazOn ink pads. I chose to use the gold metallic paired with saddle brown and timber brown. StazOn is a solvent-based ink that was designed specifically for non-porous and semi-porous surfaces such as leather so it's really a no-brainer choice.
All I had to do was stamp the metallic ink pad directly onto and across the leather cuff. Then I came in with the two different browns using them sparingly to distress the metallic gold. Less than 5 minutes later: Voilá!– classy vintage.
Step-by-step instructions here, in the design gallery!
The Re-purposed Focal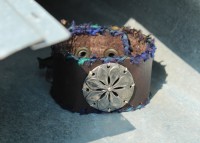 Focals aren't just for necklaces– you can stitch them to your leather cuff to be the centerpiece of a bracelet. I took a Green Girl floral pendant and stitched it to the leather using 4 ply Irish waxed linen. The Irish waxed linen is great to use for this since it gives a great strong hold, so long as you have pulled it taut while stitching through the holes. You'll want to use a rotary hole punch for punching holes with ease in the leather. Here, I punched holes around the border of the cuff so that I could add in a softer material to play off of the floral theme.  A collapsible eye needle makes stitching through the holes with a larger material like ribbon a breeze. Step-by-step instructions here, in the Design Gallery!
Get even more creative by trying one of these focals:
The Charm Bracelet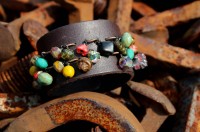 Charm bracelets are typically on chain, right? I thought why not try it out on a leather cuff. Using just a rotary hole punch, leather cuff, charms, and jump rings you can invent a new take on the traditional charm bracelet. There are so many different themes you could explore with a variety of jump rings (colors and styles) or charms and other beads!
Step-by-step instructions here, in the Design Gallery!
The Stamped & Inked Cuff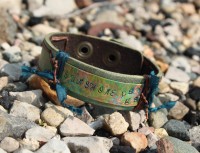 First we're using alcohol inks to color the leather. Alcohol inks are great in this case because you can blend several colors together giving a beautiful washed look. A rotary hole punch makes it easy to punch the size hole you want and the Irish waxed linen is the perfect material for stitching into the leather holes since it strong and grips in place when you stitch it through. I personalized this design by stamping text onto a copper blank and attaching it with the Irish waxed linen. You could also attach some of the Vintaj DecoRivets by punching holes into the leather, then just fold down the points to secure.
Step-by-step instructions here, in the Design Gallery!
Buy Products from this Tip
You are viewing all 4 items.
You are viewing all 4 items.