Get tips and techniques to become a better beader at Lima Beads.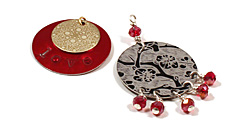 Lillypilly's metal sheets and discs are a playful addition to your metal working collection. It is an incredibly durable, lightweight metal due to the electrochemical anodized finish. Here are some ideas to get started with your designs.

Cutting
You can use metal shears on all of the Lillypilly sheet metal from 36 gauge all the way to the thickest, 22 gauge. Cut out random shapes or standard shapes like: circles, rectangles, squares and triangles. Using the shears will give you a more organic look than what the hole punches will offer. I actually like this way the best.
Punching Shapes
The McGill paper punches work wonders with the 36 gauge sheet.  It is as thin as paper and only requires a touch more "oomph" to punch through. I had great results. If you're looking for perfectly calibrated shapes, this is definitely the way to go.
Stamping
I recommend using a firm surface when stamping designs into the metal. My rubber block was too soft and didn't allow me to get the letter definition that I wanted. I ended up using my metal block and was really happy with the result. You can use any of our metal stamps including the letter stamps if you want to form words like the pictured design. If you're new to stamping, check out this tutorial on stamping metal blanks.
Creating Components
The greatest thing about these pre-made discs or sheets is that you can use them however you like by putting holes exactly where you want them.  I created a simple connector and an earring disc using just the handheld hole punch… so easy!
Adding Color
You can add color to your anodized aluminum pieces with ink pens and colored pencils! Color the areas that are silver to create unique designs. Sharpies and other permanent markers produce darker, more vibrant colors. Non-permanent ink pens and markers create softer, subtler coloring. You can use a polishing pad to remove ink from unwanted areas. When using non-permanent inks, wipe off colored areas with a damp cloth or sponge to remove ink that hasn't penetrated into the aluminum.
Resin
Using these fabulous Lillypilly pieces as the backdrop for your resin pieces adds vibrance and depth. The colors really pop out under the resin. To use in resin, we recommend using the 36 gauge metal since it acts like paper in many ways. However, if you don't have that on hand, any thickness can be used.
Cut out your desired shape using a paper punch (36 gauge only) or shears (any gauge metal). Once your shape is cut, secure it to the back of your bezel using an adhesive such as our Lima Studios 5 minute crystal clear epoxy or E6000. Don't use tape on the patinated pieces–it will pull color off when you remove it. Make sure the sheet is pressed down firmly until the adhesive dries and then you'll be ready to pour your resin.

Things to Avoid…
Here are a few things to avoid when using Lillypilly metal sheets and discs.
We wouldn't recommend texturing hammers on the patinated embossed sheets or the patterned anodized aluminum
Stamping on a soft rubber block doesn't give a great impression in the metal
Don't try to use paper punches on sheets heavier than 36 gauge. You may break your punch.