Meet The Lima Team
Posted by Kevin on August 21 at 09:13 am
Lima Beads is a small bead shop in Ann Arbor, MI. We pride ourselves on the quality of our products and the quality of our relationships with our customers. We started in the spare bedroom of a college apartment and now work out of a downtown historical building. We love what we do. We obsess over details. We provide consistently great quality. We spend the 15 minutes before lunch deciding what to eat and the 15 minutes after lunch talking about how good it tasted. We laugh with each other and with our customers. We strive to provide a great value. We don't strive to sell the cheapest beads. We give back to charities. We respect the environment. We'll make sure you're happy with Lima Beads.
The Lima Team Leaders
Business & Strategy




Alison
Creative & Merchandising




Steve
Technology & Design




Matt
Multimedia & Email Marketing


Click here to read our full bios and see photos!
The Lima Loft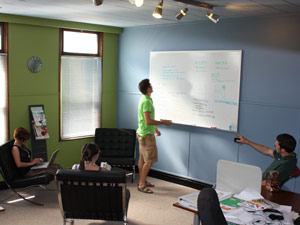 Our office is located in downtown Ann Arbor, MI. We occupy the 2nd floor of a building that was built in 1883! We don't have an elevator or a lift of any kind — which means that every bead we sell goes up (and back down) our steep flight of stairs. We love our loft office. It's a very open floor plan, which allows us to have the collaborative work environment that we all love. At this point, we just can't see ourselves in a boring warehouse somewhere, but ask us in a few years when the back pain starts to kick in.