How Many Beads in the Jar?
Posted by Matt on November 17 at 03:05 pm
If you guess how many beads are in the jar, we'll give you a $100 Lima Beads Gift Certificate!
The rules are simple:
You have until 2pm EST on Monday, November 24th, 2008 to make your guess(es).
Guesses can only be submitted in the comments of this post.
The winner will be the closest guess (without going over).
If there's a tie, the earliest entry will be the winner.
You can guess up to once per day. At the end of the contest, only your most recent guess will be considered.
If someone guesses the exact amount, we will announce it immediately. That person will automatically be the winner and the contest will end.
The Prize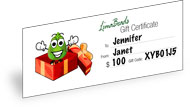 The winner will receive a Lima Beads $100 gift certificate. The gift certificate can be used for absolutely anything in the Lima Beads shop and must be redeemed within 1 year. The winner will also be announced on the blog, so the whole beading world will know how incredibly awesome you are!
The first person to guess within 25 beads of the actual amount will receive a $25 gift certificate, so hurry and start guessing, but remember — you only get 1 guess per day!
Helpful Hints
We'll be giving you a new hint every day. These hints won't be free, it may take a little bit of research to get the numbers
Here are a couple of hints to get you started:
11/17 – The dimensions of the jar are 3.5″ W x 3.5″ D x 7″ H
11/17 – The number of beads in the jar is less than the length of the Mississippi River (in miles) divided by 2
11/18 – The Atomic Number of Lithium is not one of the digits in the answer
11/19 – The answer is greater than the number of fluid ounces in four U.S. gallons of milk
11/20 - The number of beads in the jar is less than the number of words a picture is said to be worth
11/21 – The Final Hint! Some of you are soooo close. Remember that when we look for the closest guess on Monday, only your most recent guess will be used. There will not be new hints over the weekend. Today's hint requires a bit of research, but the payoff if better! The hint: The number of beads in the jar is within 100 of the population (as of 2007) of Holly Ridge, NC USA.