Kate & Kadie Craft Nite
Posted by Kate on January 31 at 01:45 pm
I think it's fair to say that Ali has earned her position as "Creative Director" here at Lima Beads, right? We're all pretty enamored with the designs, concepts, and color pairings she comes up with. Sometimes, though, I look out into our warehouse at all these components, just begging to be made into a beautiful piece of jewelry and I think, "What can I make outta this?!" I tend to be all thumbs when it comes to the fine-motor skills of jewelry making. Not to mention (ask Kadie) my attention span is somewhat lacking in the length department.
A Craft Nite is born
Kadie and I decided it was time to put some of these tips, techniques and design inspirations to the test by holding our own crafting night to see if a) we could follow directions enough to make something someone might actually want to wear; and b) see if Kate could actually finish a project instead of hiding one more half-finished project under the living room coffee table…
We started by picking a project: the Anchor Bracelet. Nautically themed & classy. Our friends at TierraCast had posted a video to YouTube teaching us how to make a couple knots and voila! An easy 5-minute bracelet! (In actuality it took Kadie the prescribed 5 minutes, while Kate spent most of the time trying to select which color leather cord to use…her total time came to approx 13-minutes. But no crying! So that's good
).
It just feels good to actually get a project completed, doesn't it? Sometimes I feel like we all need a little "quick and easy" project to re-calibrate our creativity and talents. To get us over any lingering "winter-blahs". Or to simply have a starting point from which to embellish and re-invent. So, I know it's a little late (the first month, nearly over), but Kate & Kadie craft nights are going to be our New Year's resolution. To try to carve out time from our busy day-jobs and get crafty
What's your favorite Q&E project? Or is that asking to reveal too great of secret?
Here's the video from TierraCast on how to make the soon-to-be-very famous Anchor Bracelet:
And here's Kadie following instructions like a pro:
Our finished products:
What you'll need to make the bracelet:

A TierraCast Anchor pendant (antique brass, gunmetal, antique silver)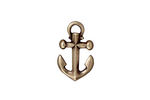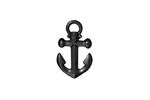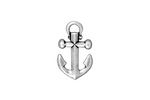 A large hole bead (we found the bead used in the video to be a little too small). Here's our suggestion:
A dab of Hypo Cement (or any other adhesive)