Search Results
There are no Fresh Picks that matched your search.
You can design one now, it's fun & easy!
Try another search here:
Other ways to find Fresh Picks:
by a specific bead...
If you go to any bead's dedicated page on the Lima Beads web site, you'll find Fresh Picks that contain that specific bead. Here's an example: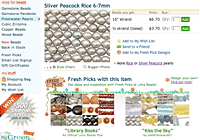 quickly scan recent additions...
In the snapshots section, you can view miniature versions of the most recent Fresh Picks. Quickly scan them to see which ones catch your eye!