Beading Needles
When choosing needles for your beadwork, it is important to use the best size for your project. John James English beading needles are high-quality, durable needles that are longer than a standard sewing needle so you can string several beads at a time. Needles are sized much like seed beads, the higher the number, the finer the diameter. A good rule of thumb is to always use a needle at least one size smaller than the size of the bead you are working with. So if you are using size 11 seed beads, you will want your needle to be no bigger than a 10. If you have trouble with the small eye of the English needles the collapsible eye needles from Griffin and Beadalon are excellent choices. They are made of very fine, flexible wire with an easy-to-thread eye that fits through even the tiniest of beads. These are also an excellent choice if your pattern calls for you to pass the needle back through a bead multiple times.
You are viewing all 10 items.
Measurements: 51mm in length, 0.57mm diameter
Measurements: 48.5mm length, 0.41mm diameter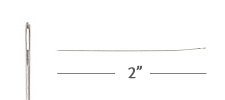 Measurements: 49mm length, 0.30mm diameter
Measurements: 47.5mm length, 0.35 diameter
Measurements: 51mm length, 0.46 diameter
Measurements: 45mm length, 0.25mm diameter
Measurements: 90mm length
You are viewing all 10 items.