Get tips and techniques to become a better beader at Lima Beads.
When it comes to altering the appearance of your metal, the easiest way to achieve a unique look is to use combinations of alcohol inks and acrylic paints. Below are some ideas for experimenting with your inks and paints to create one-of-a-kind looks.
Whitewash or Shabby Chic
To create this effect, apply Adirondack Mixatives Snow Cap Alcohol Ink to your metal surface. Then buff some of the raised surfaces to get your desired look. (Pictured: Vintaj Natural Brass Damsel Wings Pendant, Adirondack Snow Cap Alcohol Ink Mixative)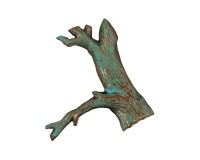 Patina
This is a simple finish to achieve without using chemicals. First, cover the metal with Adirondack Metallic Mixatives Copper Alcohol Ink. Then dab a combination of blue and green acrylic paint to your metal surface in a random fashion. Once the paint has dried, buff the surface to reveal some of the metal so that the entire piece isn't covered in paint. Voilà! (Pictured: Adirondack Metallic Copper Mixatives; Acrylic paint dabbers in Pool, Stream and Bottle; Vintaj Natural Brass Tree)


Blacken or Antique
This look can be applied to textured or patterned pieces as well as smooth blanks, giving them a beautiful blackened appearance. I combined Pitch Black and Espresso Adirondack Alcohol Ink, but you can use just one to get a great sepia tone or black aged look. (Pictured: Alcohol inks in pitch black and espresso; Brass Artisan Heart Blank)


Filling Text
Filling text on a stamped blank is a great way to make your message pop. Just dab your chosen color of Adirondack Acrylic Paint Dabber over the text, making sure to sink the paint into the grooves. Let the paint sit for a moment, then wipe off the excess. I found that my finger works best for this since it doesn't grab the paint out of the grooves… if you don't mind a little paint on your fingers
(Pictured: Adirondack Stream Acrylic Paint Dabber; Brass Square Blank; American Type Lowercase Letters Metal Stamp Set; Texturing Hammer Round 8-Faces)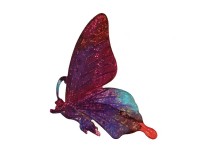 Ink Over Paint
Adding alcohol inks directly to your metal surfaces does give a beautiful finish, but if you really want to see those colors pop, add Adirondack Acrylic Paint to the metal first. Wait for the paint to completely dry, this is really important. Then add your alcohol ink to the alcohol ink applicator and color away! (Adirondack Pearl Acrylic Paint Dabber; Alcohol inks in wild plum, pool, and clover; Brass Butterfly Profile)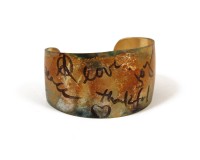 Using the Fillable Pen
The Adirondack Fillable Pen gives such great results! Adding the ink to the pen is so easy–just unscrew and pour. Make sure your surface is dry, and you can begin drawing on the metal. Draw beautiful patterns or scribble the meaning of life on your metal design. Choose your ink wisely! You don't want to mix two inks in the pen–and the metallic mixatives won't work, either. Finally, you can experiment with the two different tip points to vary the thickness of your lines. (Pictured: Pitch black alcohol ink in pen; Pen; Acrylic paint dabber in pebble; alcohol inks in slate, terra cotta, rust, gold metallic mixative, silver metallic mixative; Brass cuff)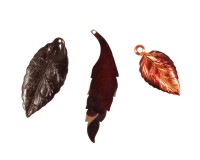 Same Inks, Different Metals…
Keep in mind that one ink may not look the same on all metals! Try one color on different materials to see how it will blend with the properties of the metal. If you're after a more consistent look, try Adirondack Acrylic Paint Dabbers. Here's an example of the same ink color used on Vintaj Arte Metal, Vintaj Natural Brass, and raw brass. (Pictured: Vintaj Arte Metal, Vintaj Natural Brass, and raw brass leaves; alcohol inks in rust and terra cotta)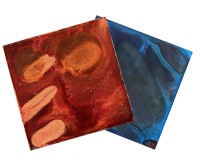 Using the Blending Solution
The blending solution does exactly as its name describes–it is used to blends different inks into each other. By using the blending solution, your colors will seamlessly flow from one color to the next. For best results, Adirondack recommends applying the blending solution directly to the felt on the ink applicator. I did this for the red combination pictured. On the blue combination, I dripped the solution directly onto the color metal. (Pictured: Vintaj Natural Brass Altered Blank Canvas; Adirondack Alcohol Blending Solution; Reds – alcohol inks in rust, terra cotta, sunshine yellow, copper metallic mixative; Blues – alcohol inks in sailboat blue, pool, stream, snow cap mixative)


Buy Products from this Tip
You are viewing all 28 items.
You are viewing all 28 items.