Acrylic & Resin Charms and Pendants
We're sorry! Currently, there aren't any items for sale under this category.
by Ali
These cute little lucite flowers were just begging to be used in earrings. The TOHO Magatama seed...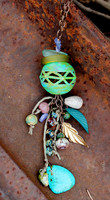 by Ali
"If you look the right way, you can see that the whole world is a garden." -Frances Hodgson...