Parawire Non-Tarnish Gold 22 gauge, 8 yards
We couldn't find that e-mail and password. Please try again.

by Elaina W
This necklace features aqua crystal bead links & a quartz focal pendant.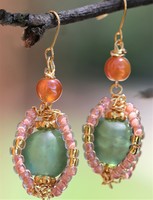 by Elaina W
For these earrings, I used wire to wrap seed beads around a recycled glass bead. I love the...
by Elaina W
For this design, I used a mix of Czech glass, recycled glass, shells, crystal, and moonstone...