Chatter









"Day of the Doves":

on

"I forgot to mention. I actually have a few vegetables forming. Whoo Hoo. Goodness knows I've…" read »


















"Stacker Trio":

on

"Great stackers! The yellowish color makes these bold & full of happy energy. The…" read »










































"Oceanic":

on

"Ah, he's a beautiful dog Beady. He looks so happy. And why not? He's got you.…" read »














"Oceanic":

on

"Thank you Beady. I will get them nyger seeds. I'm really struggling with what is happening…" read »



About this design:
This statement necklace has four layers of beautiful gemstones and was actually pretty simple to make, and I think these colors go great together!
See below for materials used.
Step-by-Step Instructions:
Step 1:
On the bottom strand of wire, string on approx. 45 Ocean Blue Impression Jasper sticks-with a rock crystal after every group of 5 impression jasper sticks, and a gold rondelle on each side of the rock crystal. On the second wire string on approx. 22 potato pearls, a gold tube, and 22 more pearls. On the third wire, string on approx. 11 Dalmatian jasper rice beads, with an amethyst in between each. On the fourth strand, string on approx. 26 Pink Agate beads, each separated with a gold spacer.
Step 2:
Using a crimp tube, attach each strand to the end bar.
Step 3:
Attach a 3" piece of chain to each end bar. Finish with a lobster clasp & jump ring.
Buy Products from this Design
You are viewing all 10 items.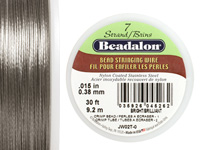 You are viewing all 10 items.