About this design:
The heishi beads I used for this necklace add a fun pop of color to these great new metal focal pieces.
Hammered Tube Arc Focal (4)
Small Gatsby Focal (3)
Jet Vinyl Heishi
Mint Green Vinyl Heishi
Beadalon Bright Wire
Silver Crimp Tubes
Silver Jump Rings 3mm
Pink Coral Agate Heishi
White Howlite Heishi
Lobster Clasp
Step-by-Step Instructions:
Step 1:
Attach a small Gatsby focal to the center of an arc focal with wire.
Step 2:
Attach two more Gatsby focals to each side of the center focal with jump rings.
Step 3:
String a piece of the wire through the arc focal and make a loop at each end with a crimp tube.
Step 4:
Use a 14" piece of wire (or whichever length you choose- the arc focals lay best if you make the necklace choker length). Make a loop at the end with a crimp tube.
Step 5:
String on the beads/arc in the order shown in the picture.
Step 6:
Slide on the arc with the gatsby focals (slide the loops you made onto the wire, not through the arc), then slide on an arc focal (this time through the arc).
Step 7:
String on the rest of the beads in the same order as the other side of the necklace. Slide on a lobster clasp and make a loop with the crimp tube.
Buy Products from this Design
You are viewing all 9 items.
Measurements: 1.25mm hole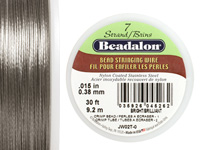 You are viewing all 9 items.