About this design:
I was inspired by these new shell focals to make a sea-themed necklace- Na-maka-o-Kaha'i is the Hawaiian Goddess of the Sea, so I thought it as a fitting name. I think the charms go great with the pearls, and of course there are tons of other pearl & shell combinations you could use- I think the necklace would also look nice with smaller shell charms sprinkled throughout.
White Rice Pearls
Potato Pearls
Crystal Nugget Rondelles
Assorted Shell Charms
Silver Wire
Beading Wire
Round Nose Pliers
Jump Rings
Lobster Clasp
Crimp Tubes
Step-by-Step Instructions:
Step 1:
On a 17" piece of the beading wire, string on the potato pearls, the crystal nugget rondelles, and the rice pearls. Make a loop at the ends and secure with a crimp tube.
Step 2:
To make the charm, I made a loop with round nose pliers at the end of a 2" piece of wire around the shell charm and strung on a blue nugget rondelle, a pink potato pearl, an opal nugget rondelle, and lastly the shell bead. Make another loop at the top and attach to the center of the necklace with a jump ring.
Buy Products from this Design
You are viewing all 9 items.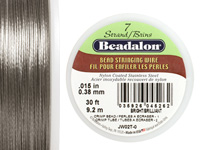 You are viewing all 9 items.