Chatter



"Taking a Break":

on

"Your work is always so fun and fantastic. I really like the chain in your earrings.…" read »




"Stolen idea!":

on

"Thanks CC. The two pictures with a white background are the photos I took of…" read »




"Pablo":

on

"Very cool Pablo pendant. I bet your necklace will start a conversation. Nice mix of interesting…" read »




"Wood Spirit":

on

"So lovely. You have really outdone yourself. And I echo all the comments above.…" read »




"Stolen idea!":

on

"Jogi, thanks for the wire gauge info--that is some large wire. The earrings are great…" read »






"Stolen idea!":

on

"Thank you everyone! Yes, I love about all Calder. Mobiles have always been so…" read »




"Wood Spirit":

on

"This is a creative beautiful necklace! The focal is outstanding. I agree with CC…" read »




"Wood Spirit":

on

"Love the natural vibe using rough cut nuggets & leather together. All the elements are…" read »




"Stolen idea!":

on

"Love your homage to Calder's work! The earrings are fabulous! I know how hard brass…" read »




"Stolen idea!":

on

"Wow, I love these! Every piece is super cool. There is something about the…" read »






"Stolen idea!":

on

"Wow. Great bracelet, earrings and wall hanging. Just beautiful. Love the earrings with the bent wires.…" read »






"Kinda Wacky":

on

"Such a neat focal and bracelet. I like how half is rich dark colors and half…" read »










"Stolen idea!":

on

"Neat earrings...all of them. I believe I have heard of him and admired his work. I…" read »






"Stolen idea!":

on

"What a great wall decor-I love that! Your earrings are beautiful- they remind me of water…" read »






"Stolen idea!":

on

"Here are my two other sets of earrings. Yeah, Pam, my favorites of his were…" read »




"Stolen idea!":

on

"Your bracelet is wonderful! His wall hanging really caught my eye followed by your bracelet.…" read »




























"Minimal":

on

"Wow Robin - I love your minimalist necklaces. Your photos look crisp to me - very…" read »




"Taking a Break":

on

"Love the pink earrings with the chain. Your bracelet is also pretty - love the little…" read »





About this design:
Turquoise is my favorite, and these antique silver drops were just calling for me to wire wrap them. It turned out to be a great combo. Plus, you will have leftover Turquoise chips to make yourself a matching bracelet:)
You will need Turquoise chips, antique silver teardrop focals, 20 gauge wire, and a pair of ear wire. Recommended tool: round nose pliers
Buy Products from this Design
You are viewing all 4 items.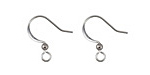 Measurements: 24 Gauge Wire or 0.5mm
You are viewing all 4 items.