Chatter



"My Favorite Colors":

on

"All of these bracelets are beautiful but I absolutely love the turquoise one. The enameled bracelet…" read »












"Simple Elegance":

on

"Beautiful way to showcase the Jasper & Sodalite pendants with the elegance of pearls. Every girl…" read »






"Simple Elegance":

on

"So pretty Althea. I agree with Pam the first necklace is more striking although both are…" read »








"Romeo":

on

"KR - It's hard not to get emotional about all of our little friends. Those we've…" read »






"Romeo":

on

"You cry all you want--you may have saved little Romeo's life--and that's something to be emotional…" read »










"Romeo":

on

"Hiya Crystal and Beady. It was a busy day yesterday. We all hit the bed around…" read »
























"Romeo":

on

"Romeo is now home! Warming up on the electric blanket. It's raining and cold and he…" read »








"Open and Closed":

on

"Oh Beady, I can't believe the ovals broke--that must have been more than frustrating to have…" read »






"Our Black Bears":

on

"Crystal - I know what you mean about the personal messaging. You and Chicky can use…" read »










"Open and Closed":

on

"I love looking at all the different ways you can wear your creations. I wonder, like…" read »







About this design:
These celestial themed stainless steel focals are out of this world. Beautiful moon phase cut-outs and silouettes make these easy to design with and wear. I used a rough amethyst drop for to add meteor-like texture and Czech glass with AB for a shimmering full moon effect in the rectangle earrings. Plus, these focals and ear wires are stainless steel which makes them durable and hypoallergenic. This is always a great selling point for your designs.
You will need: -2 stainless steel teardrop moon phase focals -2 stainless steel rectangular moon phase links -2 stainless steel sunburst charms -4mm Czech glass with AB finish -Stainless steel ear wire -Stainless steel jump rings -24 gauge stainless steel wire -Amethyst drops
Recommended tools: wire cutters & round nose pliers
Step-by-Step Instructions:
Step 1:
Teardrop earrings: Cut a 3" piece of wire and feed it though the amethyst bead hole. Twist the wire at the top to tighten it around the bead. Then feed the wire through the center teardrop loop. Wrap the wire around the top of the amethyst bead tightly and trim. Attach your jump rings and place them onto the ear wires.

See Tip: Wire Wrap a Charm

Step 2:
Rectangle Earrings: Trim a 5" piece of wire and feed it through the Czech glass bead. Lay the bead in the center full moon opening. Wrap the wire tails around each side, trim and tuck the end under the wrapped wire. Or you could use a little super glue so the wire end doesn't pop out of place. Attach the sunburst charm onto a jump ring then to the link. Now you can finish by attaching your ear wire.
Buy Products from this Design
You are viewing all 8 items.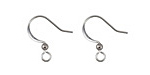 Measurements: 24 Gauge Wire or 0.5mm
You are viewing all 8 items.