About this design:
I wanted to find a creative way to use the patinaed bail, I loved it paired with the African brass beads.
You will need 2 African brass beads, 2 Greek Copper (plated) Patina Spiral Bead Bail, gold head pins, turquoise blue magnesite (light) faceted rondelle 3x4mm, jump rings, and brass ear wire.
Step-by-Step Instructions:
Step 1:
Slide the beads onto the head pin in the order shown.
Step 2:
Fold the wire over and back around the wire. I had to turn the bail to the side in order to center it center it.
Step 3:
Twist the wire around 3 or 4 times. Trim any excess wire. Attach your jump rings to the bail and to your ear wire.
Buy Products from this Design
You are viewing all 6 items.
Measurements: 2mm hole, 2mm charm hole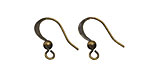 Measurements: 1.4mm charm loop
You are viewing all 6 items.