About this design:
This large sun shape lends drama and texture to these eclectic pair of earrings.
You will need 2 large brass flat coin beads, 3" head pins, ear wire, 4mm turquoise blue magnesite faceted rondelles, jump rings, and 1.5" head pins.
Step-by-Step Instructions:
Step 1:
Cut a 4" piece of wire, slide on the faceted rondelle and the large flat coin bead. Create a loop at the top with your pliers, wrap the excess wire around the base of the loop tightly. Trim any excess wire. Do the same to the wire at the bottom of the bead, make the loop a little larger so you can hang three of your bead charms from it. Follow the tip below for help creating a loop.

See Tip: Make a Wire Wrapped Bead Link

Step 2:
Create 6 beads charms with the faceted rondelles. Follow the tip below for guidance. Hang these charms onto the bottom loop with the jump rings. Attach your ear wire and done!

See Tip: Wire Wrap a Charm
Buy Products from this Design
You are viewing all 6 items.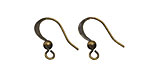 Measurements: 1.4mm charm loop
You are viewing all 6 items.